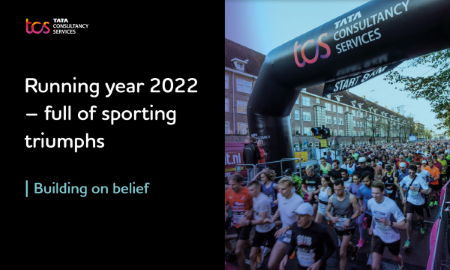 This is something that we at TCS are immensely proud of. Not only that we have contributed to activating hundreds of thousands of runners, and contributed to them challenging both themselves and those around them, but also that TCS's strong involvement in running - whether it is on the exercise track or in a competitive context - takes its starting point from the company's desire to contribute to a healthy lifestyle, and by extension to improved public health.

This connection to public health was also something that was noticed when Lidingöloppet was awarded the International Athletics Federation WA's prestigious Heritage Plaque in September this year. This World Heritage plaque is one of the highest awards a sporting event can receive, and the second plaque, after Finnkampen, that has been awarded to a Swedish competition.

"Lidingöppet's impact on the development of recreational running has been profound. It has encouraged hundreds of thousands of people to take up exercise," said the association's president and former Olympic gold medalist Sebastian Coe in connection with the presentation of the plaque in September this year.

As an IT company and official technology partner to Lidingöloppet, TCS is of course keen that the competitions also take technological steps forward. This year, for example, was the world premiere of the TCS Trail at Lidingöloppet, a 50-meter-long track, parallel to the regular track, that was rigged with cameras that captured the runner from different angles. The sequences that were filmed were then cut together into a tribute video with the runner themself in the lead role. A full 51 percent of the Lidingö race's participants in the 30 kilometer race chose to run the TCS Trail. A fantastic result.

And in Amsterdam it was the premiere of RunPuck, an innovative software that linked runners' performances in real time with their followers at home.

TCS competition apps have also been developed during the past year, and this year were packed with new, innovative solutions. For many runners, these apps were a central tool to be able to perform at their peak.

"Technology is a huge part of my running. I have all the apps, a watch and a heart rate monitor which together give me all the data I need to take my running to another level," said Equlfax Nigel Fuller, who ran the London Marathon himself.

So to say that this year's running season has been a success is certainly no exaggeration. It has been a mix of personal achievements in the hundreds of thousands, improved public health and technological advances that make running both more fun and more social.

With that in mind, we at TCS look ahead to next year.
Ready, steady… run!