It was with cautious steps that the first primary school students approached the stadium Spånga IP to take part in in Järva Skolstafett (the Järva School Relay) on the 1st of June. One of the participants took the opportunity to ask the race officials: is the red track made from lava stone? The situation perfectly captured Lidingöloppet's mission with the event: to introduce students in Järva to endurance sports and to the sports community.

The result exceeded all expectations: the event not only gathered hundreds of students, but also turned into a celebration of inclusivity and team play. Each participant who passed the final stretch of the race was greeted by students in the packed grandstand, and in the exchange zone everyone was greeted with applause and praise. The schools which chose not to be present at the race event area due to political unrest arranged the relays at their own schools.

Great contributors to the inclusive atmosphere was the invited guests, as well as Lidingöloppet's partners. The individual who started the race and awarded the prizes was for example Mohamed Hagi Farah - the Järva area's "father" who has for decades strived to provide children and young people with a safe upbringing. Among the participants was also a team from Järva's local police, and along the track were representatives from the athletic association Rinkeby Run.

Towards the end of the event, the participants had not only become more acquainted with a track, but also learned about exchange zones, starts, and good sportsmanship - all in line with Lidingöloppet's aspirations for the event.

- Järva Skolstafett is a central part of Lidingöloppet's focus on increased movement and improved health among children and young people. We are seeing Järva Skolstafett as a long-term project for public health and the joy of movement. We now look forward to inviting children in the Järva area to Lidingö Skolstafett (the Lidingö School Relay) on the 23 of September this autumn, says Lidingöloppet's Secretary General Cecilia Gyldén.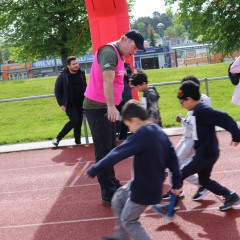 More about the Järva School Relay >
About the Lidingö School Relay >
About Lidingöloppet as the race event organizer for all of Sweden >