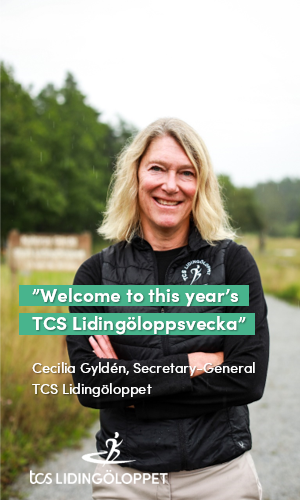 Only one month remains until this year's great running event - TCS Lidingöloppet. This year, our event will be quite different from previous years, although you will of course recognize the scenic running trails.

Since the beginning of the year, Lidingöloppet has worked hard to make sure that all runners and volunteer workers will feel safe during the event. We have had to maintain a flexible approach - when it all started a year ago, it was impossible to know what the situation would look like in September this year.

The most important measure taken has been to spread all the races over a longer period of time. TCS Lidingöloppshelgen (the TCS Lidingöloppet Weekend) has simply become TCS Lidingöloppsveckan (the TCS Lidingöloppet Week). Through this arrangement, there are significantly fewer people on the course at the same time, and also fewer people who travel at the same time, pick up number bibs and reach the finish line simultaneously. Since the rule is now 900 people in start- and finish areas at the same time, we have divided our participants into much smaller start groups than usual. There will be hand sanitizers in all places where runners gather. Our race officials are well educated in safe race management and know what measures to take to ensure the well-being of all participants.

We have also removed a number of service functions, such as showers, changing rooms and large restaurant tents, which we do not consider necessary this year. Our focus has always been on being able to arrange safe race events - from the number bib distribution to the finish line.

We will also not allow spectators in the start- and finish areas, as it will not be possible with the current restrictions of 900 people. As a friend or relative, you are instead invited to cheer along the course where there is plenty of space in nature and where we do not risk crowds.

We have worked hard to be able to carry out a safe event with the same friendly running atmosphere as always. The event crew and I wish you welcome to this year's TCS Lidingöloppet Week!