Inspiration from the Från Sverige-brand! When you need to refuel after a training session, a fresh and filling salad is often an ideal choice. We have listed five simple guidelines on how to compose the perfect salad with Swedish, in-season produce which have not been transported long distances, but been grown by Swedish farmers and growers.
1. Wholesome base
Begin by selecting the base for your salad. What would a sallad be without lettuce? There are many kinds of lettuce, for example romaine lettuce, loose leaf lettuce, frillice lettuce, and leaf lettuce, which you can mix according to preference. You may also select to have cabbage or some root crop as a basis. You can also add for example barely, oat rice, potatoes or pasta to make the salad even more substantial.
2. Add protein
Foodstuffs from the animal kingdom, like meat, fish, chicken, egg, and dairy products are foodstuffs rich in protein. (The Swedish National Food Administration). Products branded rån Sverige, Kött från Sverige and Mjölk från Sverige mean that the meat-, poultry-, egg-, fish-, seafood-, or dairy product is 100% Swedish. Beef, chicken, shrimp, ham, and roast beef are perfect in a salad. You can also add cheese made from Swedish milk, or Swedish eggs, or make your own hummus or falafel from Swedish legumes.
3. Fruit and vegetables
Make your salad varied by adding Swedish produce, fruits, and berries in season. By selecting Swedish prouice in season you know that the goods have not been transported long distances, and they are often available at a good price. Add them raw or roasted, pickled, or boiled to get different textures.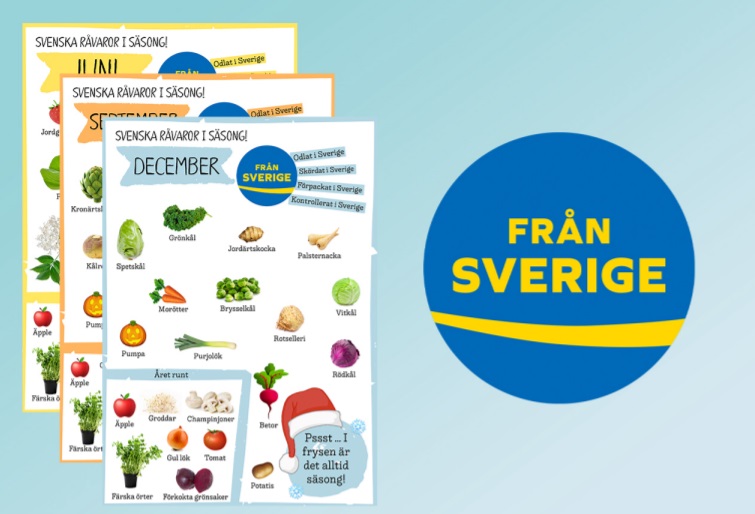 Från Sveriges' season guide allows you to see what Swedish greens, fruits and berries are currently in season. In their store under "Special" you can find the season guides for each month in A4 format, ready to be downloaded and printed.
4. Flavouring
A tasty dressing or vinaigrette made from Swedish, cold pressed rapeseed oil enhances the flavours in the salad. An advice is to mix salad and dressing right before serving since the crispy leaves can otherwise turn soft and pulpy. If you prefer a creamier sauce you ca purchase a finished procuct at the store, or make your own with creme fraiche or yoghurt as a basis.
5. Topping
Create texture in your salad by topping it with something crispy. Maybe you have a piece of bread at home which can be made into croutons, or a piece of cheese which can be grated and sprinkled over the salad. You can also try bacon sprinkles, dried berries, sprouts, or why not pickle mustard seeds?
The difference between sallad and lettuce
Lettuce is the leafy green. Examples of different kinds of lettuce are romaine lettuce, loose leaf lettuce, frillice lettuce, and leaf lettuce…
Sallad is the same of the dish, where lettuce is often mixed with other foodstuffs.

Inspiration with the Från Sverige-brand
The Från Sverige-brand is labeled produce, foodstuffs and plants which have been produced in Sweden. råvaror, The label means that the product has been grown in Sweden, born and bred in Sweden, refined, packaged, and controlled in Sweden. The brand Kött från Sverige and Mjölk från Sverige follow the same protocol. Look for the brand the next time you are shopping!